Customer Service Snippet - Digital Downloads
How to Find Your Digital Download
Snippet you can re-use for customers:
Link to this video for your customers ⇢ youtu.be/LhQ2GnAKiBo
---
The Story Behind this Snippet
If you watched what happened when I reopened my Etsy shop last month, you might remember that I put my brother, Scott, in charge of all things customer service.
He's never run a shop with digital downloads before, so you can imagine his surpise when he got this convo:

⇡ A question ALL digital download sellers will recognize! ⇡
Scott was like *oh shit* watdoidonow???
Now, normally I create convo snippets for little questions like this -- if I never wanna answer it again, that's a BIG FAT SIGN that I need to make a snippet for it.
But when Scott and I reopened the shop, we decided we were gonna DO THE EXTRA CREDIT...every SINGLE step of the way.
In 2019, we want to IMPRESS our customers so much that they DROLL all over the FLOOR while telling us how 🌟ABSURDLY AWESOME🌟 we are.
So I pulled out ALL the stops, and I made this one customer ⇡ a VIDEO. 📹
Yes, you heard me right.
I made a VIDEO.
I spent time answering a question I HATE one final time -- because this whole VIDEO thing means I never have to tell a customer how to find their download again! ⇣ ⇣ ⇣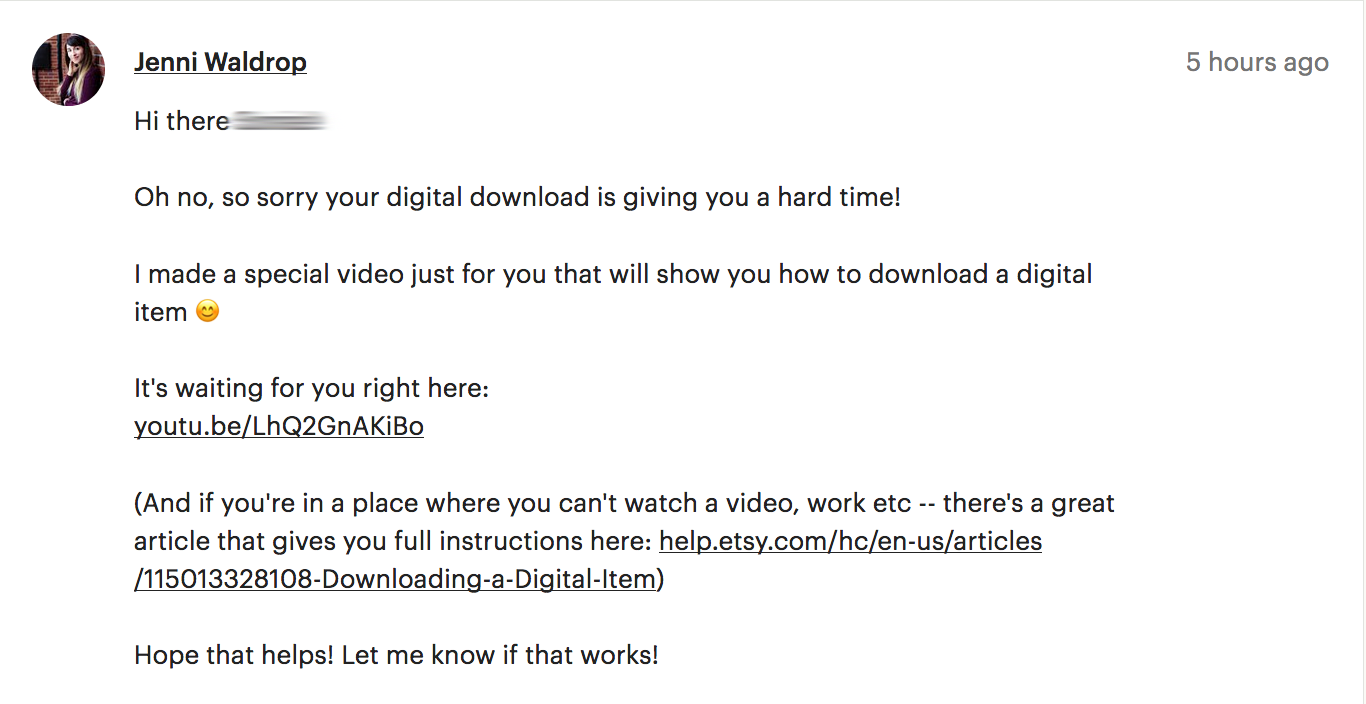 ⇡ When Customer Service is so good it BURNS 🔥🔥 ⇡
This video is just the FIRST in a SERIES I'm making...I call them "Etsy Service that doesn't SUCK" 😉
And they're designed to make YOUR life easier.
Because, Buttercup -- I'm giving you 100% PERMISSION to re-use my videos for your own customers!
That means you can steal my EXACT customer service video and re-use it for all those customers who ask you how to find their digital downloads!
And don't worry...this is just the FIRST of many, many customer service videos you can steal. I'm thinking shipping times should be next?
Want More Customer Service Videos?
Not to mention done-for-you convo snippets??
From now on, all future customer service videos (aka "how to get rushed shipping on Etsy", "What to do if you haven't gotten your order yet", and "Why didn't I get tracked shipping on Etsy?") -- will be rolling out for TRIBE members ONLY.
Meaning if you want to upgrade your customer service and make it STUPID easy for 2019…
You need to get on the Tribe Wait List to get your shit in order!
---
---